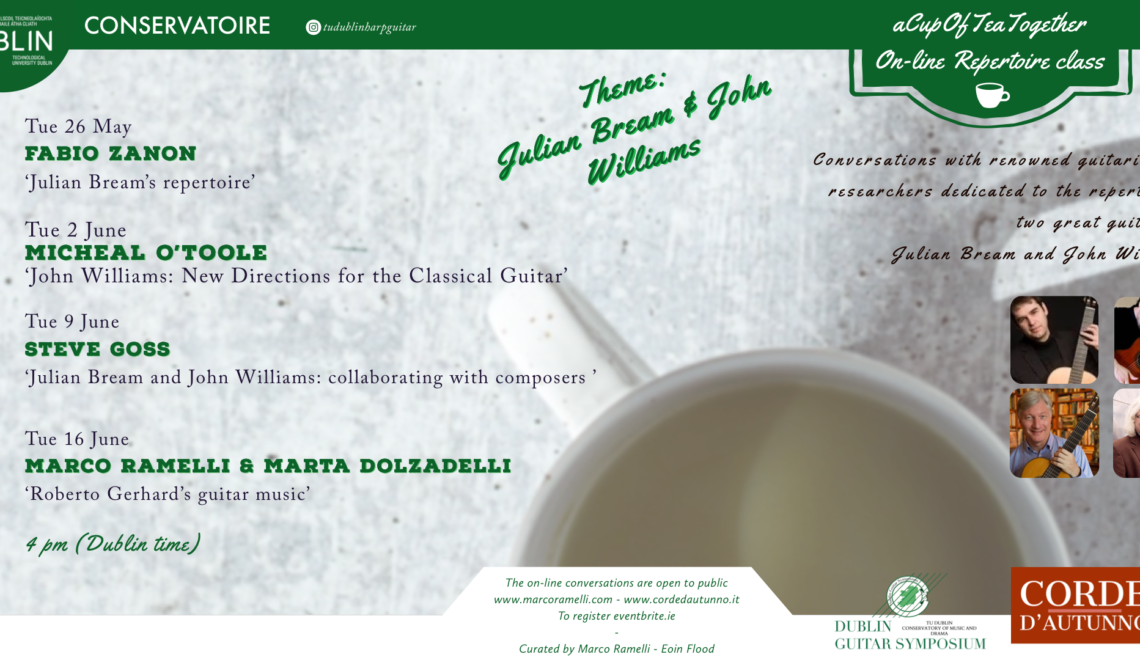 TU DUBLIN Conservatoire & Festival Corde d'Autunno
aCupOfTeaTogether
On-line repertoire classes
Conversations with renowned guitarists and researchers dedicated to the stories and music of important composers in the history of the guitar
This series of lectures, dedicated to the classical guitar's repertoire, was initially designed for TU Dublin Conservatory students. However, we decided to make these discussions open to a wider audience with the hope to recreate the atmosphere of live events we have created before these difficult times.
The response was very enthusiastic. It was a great pleasure to see guitar students, researchers, performers and educators from all around the globe connect together and collectively deepen their musical knowledge. It is important to us that this platform is both focused in its approach, yet promotes friendly interaction between fellow guitar enthusiasts.
The events are curated by Marco Ramelli and Eoin Flood as a collaboration between TU Dublin Conservatoire, Festival Corde d'Autunno and Dublin Guitar Symposium.
All events are free and will be held on Zoom, ‪beginning at 4:00pm GMT.
Calendar:
– Tue April 7 16:00- 17:00
Sasha Savaloni – 'Franz Schubert'
– Tue April 14 16:00- 17:00
Andrea De Vitis – 'Alexandre Tansman'
– Tue April 21 16:00- 17:00
Eoin Flood – 'Leo Brouwer'
– Tue April 28 16:00- 17:00
Enrica Savigni – 'Fernando Sor'
– Tue May 5 16:00- 17:00
Ian Watt – 'Augustin Barrios'
– Tue May 12 16:00- 17:00
Luiz Mantovani – 'Ferdinand Rebay'
– Tue May 19 16:00- 17:00
Lorenzo Micheli – 'Caprichos de Goya by Mario Castelnuovo-Tedesco'
– Tue May 26 16:00- 17:00
Fabio Zanon – 'Repertoire written for Julian Bream'
– Tue June 2 16:00- 17:00 
Micheal O'Toole 'John Williams: New Directions for the Classical Guitar'
– Tue June 9 16:00- 17:00
Steve Goss  'Julian Bream and John Williams: collaborating with composers '
-Tue June 16 16:00- 17:00
Marco Ramelli – Marta Dolzadelli 'Roberto Gerhard's guitar music'
 Previous events:
Here for the video of the previous talks: