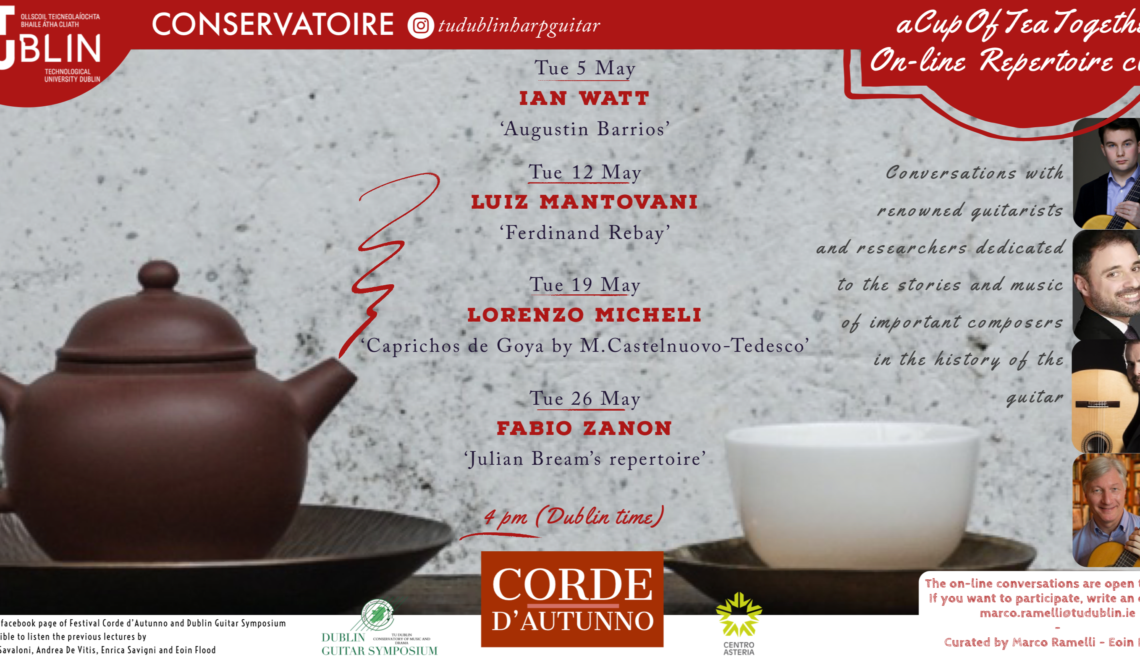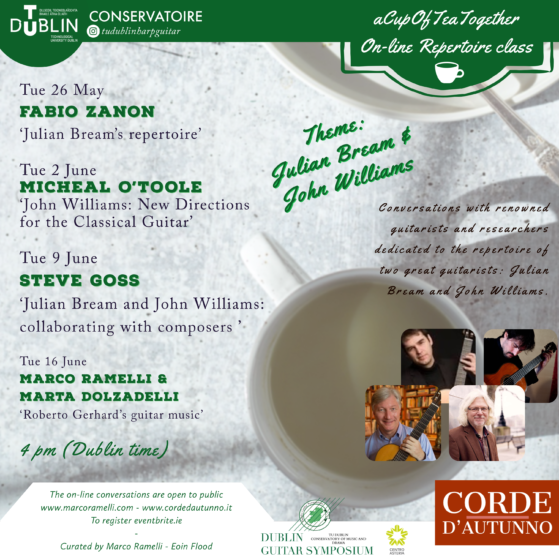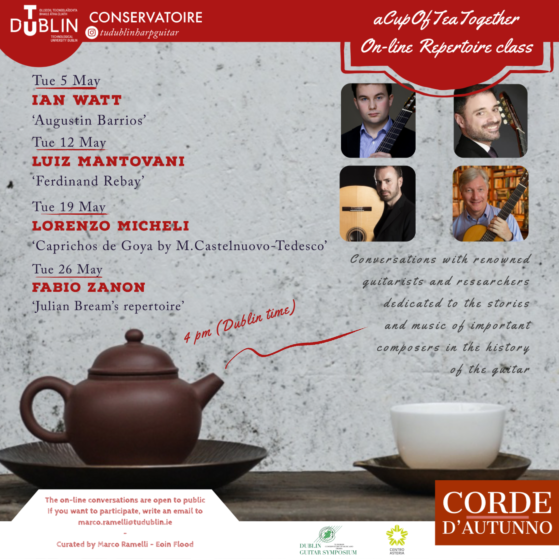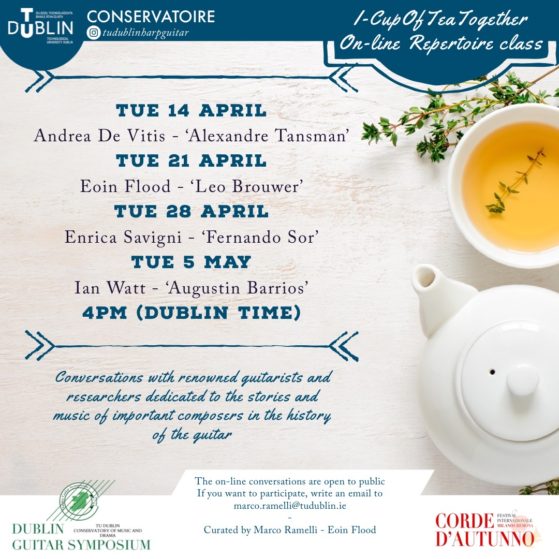 This series of lectures, dedicated to the classical guitar's repertoire, was initially designed for TU Dublin Conservatory students. However, we decided to make these discussions open to a wider audience with the hope to recreate the atmosphere of live events we have created before these difficult times.
The response was very enthusiastic. It was a great pleasure to see guitar students, researchers, performers and educators from all around the globe connect together and collectively deepen their musical knowledge. It is important to us that this platform is both focused in its approach, yet promotes friendly interaction between fellow guitar enthusiasts.
The events are curated by Marco Ramelli and Eoin Flood as a collaboration between TU Dublin Conservatoire, Festival Corde d'Autunno and Dublin Guitar Symposium.
Thanks to Sasha Savaloni, Andrea De Vitis, Eoin Flood and Enrica Savigni for their recent presentations. You can find recordings of these on our social channels, the series' website; and also the Corde d'Autunno and Dublin Guitar Symposium websites.
For May, we have devised another series of four meetings that we are sure you will enjoy. ‪On May 5 at 4pm (Dublin time), Ian Watt (Royal Conservatoire of Scotland) will talk about Augustin Barrios Mangore, focusing mainly on his teaching activity at the end of his career. Ian Watt has recently worked on Barrios' music collaborating with luthier and Barrios expert Federico Sheppard.
In the following weeks we will have two meetings dedicated to two great composers of the twentieth century: Ferdinand Rebay and Mario Castelnuovo-Tedesco. Firstly, ‪on May 12, Luiz Mantovani (State University of Santa Catarina – UDESC ) will introduce us to the world of Ferdinand Rebay. As well as being an excellent guitarist, Luiz Mantovani recently completed a doctorate on this composer, who some of you will be learning about for the first time. The week after, ‪on May 19, Lorenzo Micheli (Conservatorio della Svizzera italiana) will give a lecture on the cycle "Caprichos de Goya" composed by great Italian composer Mario Castelnuovo-Tedesco.
Lorenzo has been strongly associated with this composer for many years. His interpretation of the solo, orchestral and chamber works of the Italian master are an important point of reference for many guitarists.
The last meeting of the month will be ‪on May 26, with the Brazilian virtuoso Fabio Zanon (Royal Academy of Music London). Fabio presented a lecture dedicated to Julian Bream's repertoire last November for the guitar symposium within the tenth edition of the Festival Corde d'Autunno. The symposium was dedicated to Julian Bream and to the English luthier David Rubio. On this occasion, we will share the recording of this lecture with you, followed by a Q&A together with Fabio Zanon.
All events are free and will be held on Zoom, ‪beginning at 4:00pm GMT. If you want to participate, write an email to  marco.ramelli@tudublin.ie.
Best wishes
Marco & Eoin
Next events:
– Tue May 5 16:00- 17:00 (Dublin Time)
Ian Watt – 'Augustin Barrios'
– Tue May 12 16:00- 17:00 (Dublin Time)
Luiz Mantovani – 'Ferdinand Rebay'
– Tue May 19 16:00- 17:00 (Dublin Time)
Lorenzo Micheli – 'Caprichos de Goya by Mario Castelnuovo-Tedesco'
– Tue May 26 16:00- 17:00 (Dublin Time)
Fabio Zanon – 'Repertoire written for Julian Bream'
Previous events:
– Tue April 7 16:00- 17:00
Sasha Savaloni – 'Franz Schubert'
– Tue April 14 16:00- 17:00
Andrea De Vitis – 'Alexandre Tansman'
– Tue April 21 16:00- 17:00
Eoin Flood – 'Leo Brouwer'
– Tue April 28 16:00- 17:00
Enrica Savigni – 'Fernando Sor'
– Tue May 5 16:00- 17:00
Ian Watt – 'Augustin Barrios'
Dublin Time zone
If you want to participate, write an email to  marco.ramelli@tudublin.ie.
Participants, please be reminded to turn off your video and mute audio before entering the webinar. There will be a Q + A towards the end of the event where participants will activate video. During this section, to ask a question, send a message through the platform's chat function to the event host, who will unmute participants accordingly.